Testimonials from our Clients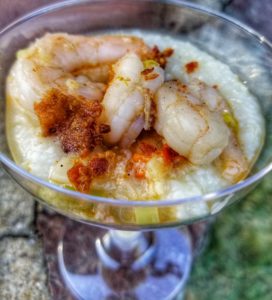 Haley said...
Catering by Teatime catered our wedding in Middleburg, VA in October 2017, and I cannot say enough good things about them. Ruth (owner) was wonderful from day one. She is quick to respond to emails, open to all ideas, and both honest and practical when it comes to budget and venue limitations. She crafted a menu that worked for our wedding and incorporated the personal touches we were looking for. She was a dream to coordinate logistics with. Day-of, both Ruth and her team were on point all night - friendly, gracious, problem-solvers who made the whole evening flow beautifully. Our guests raved about the food (shrimp and grits were to die for) and the service. Her cake was delicious and gorgeous as well. And when we wanted to incorporate mini-pies made by a friend, Ruth served them with enthusiasm and gusto. Our venue was short on kitchen space with long walks to the reception tent, but you would have thought Teatime had catered at the venue a thousand times (rather than this being their first time there!). I cannot recommend Ruth and Teatime highly enough. She will work with your menu, your budget, and venue with professionalism and passion. High quality food at affordable rates, all served by a top-notch team. You can't go wrong with them!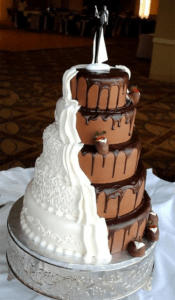 Katie said...
Ruth was absolutely wonderful! I went to her to discuss options and also see if she could create my dream cake which is called a "two face" and she was so excited and willing to accept the challenge! Throughout the entire experience, Ruth was right there to help when I needed her. We created a customized menu (which was delicious) and Ruth and her staff were so wonderful on the day of the wedding and made sure my new husband and I had everything we would need. Ruth even ran out to show us the cake, which by the way, was so amazing! The cake looked exactly how I hoped it would. I'm truly grateful for everything and would highly recommend her to anyone 🙂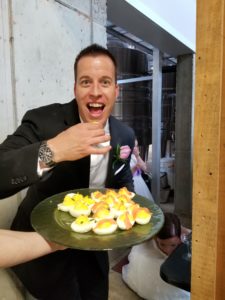 Kristian said...
Ruth and her team were amazing! It's nice to be able to think about other parts of the wedding day events, knowing Tea Time was going to handle the catering side. It was flawless from the beginning. One of our favorite h'orderves were the chicken and waffles. This was a home run for us! Then, the delicious main dishes, which were served perfectly. Next, was our the cocktails which were served with a smile. And finally, the homemade cakes and deserts which were made from scratch. Tea Time was absolutely fabulous! By the way, did we mention the staff? We are huge advocates of the service industry and the entire team was cordial and had this willingness to serve that you don't get everyday. Tea Time, thanks again for everything, you couldn't have been much more accommodating. If you are looking for the quality with a twist of class, then look no further. Let Tea Time make your special day perfect!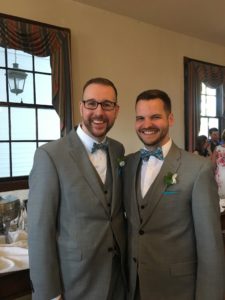 Matt said...
"You can let go of everything reception-wise. If you forget something, we will figure it out. Now go be a groom!" This was the last text message from Ruth at Teatime the morning of our wedding. I was stressed about all of the details coming together and Ruth saved my sanity allowing us to get married knowing that she and her outstanding staff would make sure that it was a beautiful and well-choreographed reception. Ruth gave me the best gift of all - a clear head to embrace the day that had been in the planning for 18 months. I cannot emphasize the importance of having vendors who have your back so that you can focus on the important stuff! Ruth talked us through how everything would go, and guess what? It happened exactly like she said it would!
In full disclosure, I have known Ruth for more than 10 years and have loved SO many of her recipes and new creations. The food for our wedding was phenomenal - a wide variety of foods for the many different types of eaters (vegetarians, vegans, gluten-free, etc). The silver-dollar crabcakes flew off the platters, so we were glad to be the grooms to ensure we got to try them! We knew our guests loved the food, too, when the table conversations got quiet! Our wedding cake was amazing! It wasn't just tasty, it was a work of art.
LGBT friendly? More like LGBT LOVING. There's a big difference between being friendly because someone wants your business, and the loving support provided by Ruth and the Teatime Delicacies team. I wish there was a category of stars for that! We love Ruth and are so glad she was free to cater our wedding. Teatime Delicacies has our full confidence and we highly recommend Ruth and her dedicated staff to anyone needing catering services. We can't wait for the next party that we get to plan with her!

"Outstanding!!! Ruth was professional and quite helpful in making suggestions for our afternoon wedding and reception. She had the perfect tea menu. The cake was a work of art and absolutely delicious. We wanted a masculine cake being a male-male couple. It was 2 layers of red velvet with cream cheese center, one layer of vanilla and raspberry center, all topped with chocolate ganache frosting, large chocolate shavings, and fall flowers…to die for. The tables were tastefully decorated in a fall theme as requested. Many of our guests have complemented the quality of the food and the cake. We highly recommend Teatime Delicacies for your event! "

"Ruth and her team did a fantastic job catering our wedding at Top of the Town! We had fun working with Ruth leading up to our big day. We met with her in person a few times in the months prior, to go over any details we had and she was very quick to answer emails as well. As far as the menu - Ruth created a passed appetizer for us, to honor one of my (new!) husband's favorite meals: chicken & waffles! It was such a cute presentation AND delicious. As a matter of fact, ALL the food tasted great on such a beautiful buffet. Many friends warned us after their own weddings that we'd end up being so busy we wouldn't get a chance to taste our own food. But not with Ruth's staff! They ALL sought us out when we walked in to make sure we and our bridal party got to have as many appetizers as we wanted. The bartenders did a fantastic job as well, making great drinks and keeping up with our signature cocktail (a recipe I asked Ruth's staff to make, and they did very well). To top it all off, Ruth gave us options to keep us in the budget we requested. I cannot sing Teatime Delicacies's praises enough. Everything from the planning, set-up, decor, food, drinks and clean-up were executed perfectly. We were so happy to have them to cater our special day!!"

"From our first meeting with Ruth to the main event, we felt confident that everything would be wonderful - and it was! Our guests raved about the buffet, the cake (SO DELICIOUS!), and most of all, Teatime's staff. Ruth has a lovely team working for her! A last minute street concert near our venue resulted in fairly significant logistical challenges, particularly with regard to parking. Ruth assured us she would roll with the flow and that her staff would arrive timely - she really put our minds at ease. Ruth is a pro with loads of experience. If you are a bride who wants the best and doesn't want to get into the weeds of planning every last detail, choose Teatime because Ruth can deliver a top notch event without much input. Her prices truly cannot be beat particularly given the quality of her food, cakes, and staff. Ruth and Teatime Delicacies made us feel so very special and contributed in a big way to the best day of our lives. We recommend them without reservation or hesitation - Teatime Delicacies is A-M-A-Z-I-N-G! "
Wedding, Sarah and Marvin, 7/25/2014

"When we first reached out to Ruth (Owner) to inquire about a price quote we expressed that we had a limited budget, and needed recommendations on ways to keep our catering prices low for a wedding size of around 70 people. Ruth was extremely helpful in ideas to make our wedding reception an affordable one. We ended up doing a buffet dinner, picked dinner items that kept food costs to $25 per person, used plastic vs. glass cups for the bar, bought colorful ribbon to tie around napkins vs. renting expensive colored tablecloths, only provided beer & wine, and of course the bonus of having our wedding cake included at no additional cost. Ruth is really the key to this company being such a success. We ended up meeting with Ruth on three occasions which all took place in her home. I think I may have emailed Ruth every-other week with additional questions or random advice on various details for the wedding. Each time she would normally get back to me within a couple hours! She even put us in contact with a local Cake Shop Owner who made us custom chocolate flowers which were incorporated into Ruth's BEAUTIFUL & delicious cake. As for the day of the Wedding Reception everything went off without a hitch. Ruth knows how to maintain an awesome staff; even though she wasn't there everything ran smoothly. Just as she promised she had her Manager come and find the Bridal Party as soon as we got in the door with a tray of tasty Hors d'oeuvres just for us! Although my husband and I tried our best to make ourselves eat dinner at the reception, we failed to get to our plates before the meat had been out too long. But no reason for disappointment because Ruth's staff thought ahead and had some leftovers stored in the fridge that they packed up for us. If you're currently researching caterers you need to get in contact with Ruth. This company has amazing service with a GREAT PRICE for the DC area. All of our guests, and my husband and I highly recommend Teatime Delicacies for your wedding! "

"I'm so lucky that a caterer we contacted first wasn't available and put Ruth in touch with me! Her knowledge and years of experience helped us create the perfect menu for our wedding. She did a site visit with us to our venue and was able to map out our entire evening in minutes. We told her how much we loved baked brie so she created a new appetizer just for us, if you use her make sure you request the brie and raspberry in phyllo cups! She made sure we were able to enjoy some of the appetizers from our cocktail hour, even though we were taking pictures by sending one of her staff out to us with platters. We were so excited, because we would have missed it otherwise. She did an amazing job with our wedding cake as well. The week before our wedding she reached out to me several times to make sure she had all of our details correct and there wasn't a thing out of place on our wedding day. Our only regret is that we were not able to enjoy more of the food we planned, it is true that you don't get to eat at your own wedding. However, all of guests who got to enjoy the menu we planned raved about the food and service. Maybe we can convince Ruth to recreate our menu for us sometime:) Thank you for everything Ruth!"

"Hands down THE BEST caterer in Northern Virginia!! Ruth and her team catered my sister's wedding 2 years ago and they were so amazing (food, baked goods, service) that all of her guests were talking about them. Needless to say, when I got engaged Ruth was the first person I called to reserve her for my big day! She is AWESOME! She will work with you, and has the best ideas for your wedding theme. She is patient, professional and loves what she does! Her staff is also incredible. Very friendly, works hard and professional. My guests loved the food and service! Not to mention the GORGEOUS wedding cake Ruth made. Everything was just perfect and smooth thanks to Teatime. "
Wedding, Reston Community Center, 4/13/13

"I have found my new favorite caterer.  She will get my business every time!!!"
Wedding, Goose Creek Pavilion, 3/16/13

"We are so blessed to stumble upon Teatime Delicacies and Ruth after some serious searching for the right caterer for our wedding reception.  Ruth is meticulous, has wonderful communication skills and produced an amazing dinner for our guests. She also designed our wedding cake from a photo I gave her and it was stunning."
Wedding, Private Art Gallery in Washington DC, 12/22/2012

"From the very first conversation Ruth lets you know she is there for you and wants you to have the very best event possible. Not the biggest, not the flashiest – the Best.  It takes a true professional to know the difference.  Ruth in every word is the professional caterer.
My wife and I are both artists and even though much of it was DIY, we had a very challenging little reception in a small DC art gallery, dietary restrictions, limited budget. Ruth looked at every aspect of the event and made sure it was covered and we were comfortable.
And the CAKE?  Best. Ever.
In short:  She treats you like family and works with you, your budget and your venue.  Call her first."
Weddding, Briar Patch Bed and Breakfast, 11/10/12

"Stop!!!  Don't look anywhere else!! BEST caterer in the area!!
We did a lot of research (like you are doing now) and narrowed down our list for the taste testing.  Teatime was our first tasting and we walked out with our decision made.  What made Teatime even better was Ruth, who is creative, hard working and provides you with an amazing staff.  We could not have asked for a better caterer.  Teatime is flexible, affordable, and most important her food is delicious :)"
Wedding, Rose Hill Manor, 10/5/2012

"I was referred to Ruth of Teatime Delicacies through a friend's wedding that Ruth catered and I cannot express how happy we were with her services.  We got to include a welcome drink, apple wedges with caramel sauce without going over our budget.  Ruth definitely went above and beyond to make sure everything ran smoothly and was perfect. Our wedding cake, included in her package, was delicious, savory and gorgeous!"
Wedding, George Washington Masonic Temple, 9/15/2012

"I had the wonderful fortune of booking Teatime Delicacies as the caterer for our wedding reception and cannot say enough good things about Ruth, the owner. From the very beginning Ruth was to incredibly responsive and worked diligently on all the catering details, particularly the Peruvian arroz con pollo (chicken with rice) that was so very important to my fiancé (now husband!).  The food was superb and the service was top notch.  I so enjoyed working with Ruth that I am thinking about future events that might need catering!"
Wedding, George Washington Masonic Temple, 5/12/2012

"When planning our wedding reception, there must be three things to be a success:  an open bar, a great DJ, and fantastic food.  That seemed easy enough to coordinate at first, but when I started researching catering online I became extremely frustrated after the lack of information I would receive after filling out the "Contact Us" form on so many websites asking for more information.  After weeks of searching, when I contacted Ruth, filled out her "Contact Us" form, I heard a reply in less than an hour thanking me for my interest, and when would be a good time to set up a meeting to discuss things further.
When I gave her our bottom line on budget, she never pressured us to spend more or hide costs.  Instead she worked with us to get the most out of our budget without skimping on the food and still providing our guests with a memorable and unique meal.  On food alone, Ruth hits it out of the park, but it gets even better.  The day of the event was flawless thanks to her staff who set up the reception.  Her staff is simply amazing.
For anyone planning a "Big City Event"  but looking to get some "Hometown" service…book Teatime…you won't be disappointed!"
Wedding, First Baptist Church Alexandria, 3/31/12

"Choosing Teatime to cater our wedding was one of the best decisions we ever made!  In a nutshell, the food was excellent, the service was outstanding, and my wedding day was exactly what I dreamed of thanks to Teatime.  I have already referred Teatime to four other brides!"
40th Wedding Anniversary at their home, 4/27/13

"Absolutely fantastic service, food, guidance and menu selection and more! I was so pleased that Ruth was available to cater my parent's 40th wedding anniversary party.  I first experienced Ruth's catering five years ago at a friend's wedding and so pleased to find her once again!"
Read Our Reviews
from past clients
5.0/5.0
This is the best catering company, ever, thanks to the attention to detail and overall professionalism of Ruth MacBean. On two separate...
read full review
5.0/5.0
We found Ruth searching through WeddingWire and cannot even begin to express how grateful we are that we did. She is nothing short of...
read full review
5.0/5.0
Ruth and her team were amazing! It's nice to be able to think about other parts of the wedding day events, knowing Tea Time was going to...
read full review